THE FRAGRANCE
Woodland Shade
Coastal Sunset: Features Sun-kissed blossoms, inviting coconut and salty ocean air capture the warm glow of the coast.
Seaside Mimosa: A blend of juicy citrus and sparkling champagne making this scent as refreshing as a cold drink on a Summer shore.
Island Coconut: Combines juicy pineapple and creamy coconut blended with hints of banana and vanilla to create the perfect tropical treat.
THE PRODUCT
Size: Length: 19cm, Height without lid: 8cm, Width: 11.2cm
Volume: 368.5grams
Burn Time: Up to 30 Hours
Experience the revolutionary new HearthWick flame today! The new HearthWick flame lets you experience the cozy comfort of a glowing fireplace anywhere in your home with it's soothing crackle and long, dancing flame

Nothing adds quaint charm to a home like a high quality candle.
So why the name HearthWick?
HEAR ~ Hear the soothing sound of a crackling fire.
HEART ~ Relive fond memories or create new ones in the glow of this new range.
HEARTH ~ The hearth is long cherished as a symbol of warmth, love and special family moments.
The Trilogy Candle allows you to enjoy three harmonious fragrances and the soothing sound of a crackling wooden wick. Each layer of wax contains a different fragrance that compliments the next so as the candle burns, each fragrance melts into the next, creating a unique new scent.
The HearthWick Candle with its unique shape is the perfect table centrepiece or gift!
Inside each and every HearthWick candle is a special 5.5cm width 'ribbonwick' made of organic wood. When lit, you will hear the soothing sound of a crackling fire. Combined with their amazing line of scents, this gentle cracking effect adds depth to any room.
Great value for money, WoodWick HearthWick Candles are in tear shaped glass jars with a wooden lid and rubber seal. The wooden lid is also heat resistant and can act as a coaster for your candle. When your candle has finished burning, repurpose the jar and lid.

Safer for you and your family, soy candles burn at a lower temperature and create a cool wax pool.
THE BRAND
WoodWick candles bring together the perfect mix of old world charm and modern fragrance. The result: a truly unique range of soy wax candles that crackle as they burn. Created using organic wooden wicks and the finest soy wax available, Woodwick has reinvented candlelight.

WoodWick candles use only the best natural ingredients in their candle line to produce fresh scents that fill your home. Only natural components are mixed with the soy wax... never any harsh artificial ingredients.
CHOOSING A SIZE
Woodwick candles come in 4 sizes. The concaved jar helps prevent tunnelling ensuring no wasted wax.

AVERAGE BURN TIMES BURN TIMES:
Mini: 20 Hours
Medium: 60 Hours
Large: 120 Hours
Hearthwick: 30 Hours (The long wick makes a great statement piece, but does burn at a faster rate)

| | |
| --- | --- |
| SKU | WW76967 |
| Barcode # | 663595769679 |
| Brand | Woodwick |
| Shipping Weight | 1.3320kg |
| Shipping Width | 0.100m |
| Shipping Height | 0.090m |
| Shipping Length | 0.180m |
Others Also Bought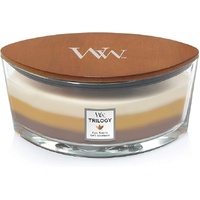 WoodWick HearthWick Trilogy Candle - Cafe Sweets
RRP: $72.95 OUR PRICE: $63.50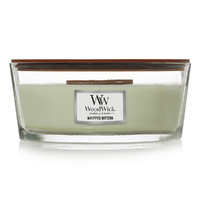 WoodWick Hearthwick Candle - Whipped Matcha
RRP: $72.95 OUR PRICE: $63.50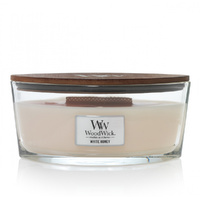 WoodWick Hearthwick Candle - White Honey
RRP: $72.95 OUR PRICE: $63.50