Sylvanian Families - Milk Rabbit Family
Alex Periwinkle often takes photos of his family to cherish their family memories. But Henry is always so active, it takes a long time for them to settle down in front of the camera. On an evening he likes to drink tea and look through his photo albums. Alex is the doctor in Sylvanian Village. His warm smile makes everyone feel at ease. Even babies with stomachache stop crying when he says "Don't worry, you'll be fine." If a child somewhere has a fever, he'll ride his bike to the child's house to examine them.
Kate Periwinkle likes romantic-looking rooms and decorates her rooms with lots of flowers and pictures. She wants the children to always keep dreaming, so she tells them stories and fairy tales about princesses and fairies. Kate is the nurse in Sylvanian Village. Everyone in the village admires how she skillfully prepares equipment and medicine while she works. She has put many toys and picture books in the waiting room and plays with them with the babies so that they don't get nervous while they wait.
Oliver Periwinkle likes to write beautiful poems, and the girls at school always look forward to hearing his poems. He's also good at ice skating, so he's always the first one to be gracefully skating on the ice when the lake freezes in winter.
Rebecca Periwinkle wishes she could become a princess. She writes stories about becoming a princess in a secret notebook and dreams that it will come true some day. She uses her baby brother Henry as an audience to practice dancing and curtseying like a princess.
Age: 3 yrs+
About the brand
Encourage imaginative play with Sylvanian Families.
Created in 1985 and still as popular as ever, Sylvanian Families is a highly collectable toy range that sparks creativity. With a seemingly never-ending choice of houses, buildings and families there's a unique story to play out every time you open the toy box,
Charming Homes, beautifully detailed funiture and entire villages of shops, vehicles and accessories, create an idylic world filled with fun and laughter.
Start your childs collection today, or combine with your own childhood pieces to share in the multi-generation fun.
| | |
| --- | --- |
| SKU | SF4108 |
| Barcode # | 5054131041086 |
| Brand | Sylvanian Families |
| Shipping Weight | 0.1660kg |
| Shipping Width | 0.210m |
| Shipping Height | 0.070m |
| Shipping Length | 0.180m |
Others Also Bought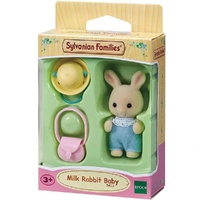 Sylvanian Families - Milk Rabbit Baby
RRP: $12.99 OUR PRICE: $11.00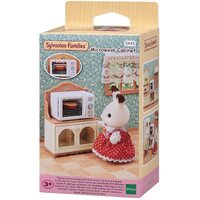 Sylvanian Families - Microwave Cabinet
RRP: $14.99 OUR PRICE: $13.00